Partneri
Saites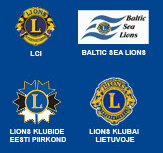 In Latvia »

Latvia Lions clubs received Lions Clubs International Foundation emergency grant (10 000 USD) to reduce the spread of Covid-19 virus in Latvia.

Lions Latvia Zone meeting will take place at the Grand Palace Hotel, Riga, Pils iela 12, on January 21, 2017, at 11:00

LIONS Latvia Zone Convention will take place in tourism and rest centre "Jaunsētas" in Aluksne on May 16, 2015

Club News »

President of Lions Club Jurmala Zigmunds Klīvis and Vice President Aleksandrs Bērzkalns, in Jūrmala 12.11.2020., congrulated participants from Jūrmala for participating in the Chil...

On January 3, Zigmunds Klīvis, President of the Lions Club Jurmala, had a meeting with Uldis Līkops, Secretary General of the Latvian Red Cross.

From October 25 to 27, 2019, members of the Lions Club Jurmala participated in the Regional Lions Leadership Institute held in Belarus.